Do You Gua Sha?
| Yong Li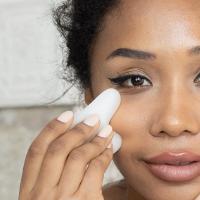 About Gua Sha
Gua

 

sha

 is part of Traditional Chinese Medicine (TCM) in which a tool is used to repeated glide strokes over lubricated skin with a blunt tool that has a smooth edge—a 

gua

 

sha

 tool.
Facial muscles store a lot of tension, which can create fine lines and wrinkles. Regular facial
 

gua

 

sha

 

massage and facial rolling helps to increase stimulation, drain congested lymph nodes, rid the body of toxins, stimulate collagen production, help with sinus issues, and decrease under eye puffiness and dark circles.
Facial
 

gua

 

sha

 

moves lymphatic fluids and improves blood circulation so your skin can function better. As if that weren't enough, it can also reduce puffiness and help your skin appear bright and more lifted!


Why Gua Sha
moves and drains lymphatic fluids

reduces face and under eye puffiness

increases blood circulation

relieves jaw tension

reduces sinus pressure

brings about a healthy glow
How to Gua Sha
Gua Sha Tools
Shop our wide selection of jade, rose quartz, amethyst, copper, and silver gua sha tools here.
Tip: Store your gua sha tool in the refrigerator or freezer for maximum cooling and de-puffing effects.  Or run it under warm water prior to use for a warming effect.


Gua Sha Facial Oil
al glide, moisture boost, and the incredible anti-aging benefits of pearl powder, ginseng, babchi oil, green coffee bean oil, and hibiscus seed oil.
Apply gua sha oil to cleansed face and neck. Starting in the center of the face, hold the gua sha at a slightly tilted angle and glide the tool across the skin in outward strokes, using gentle but firm pressure.